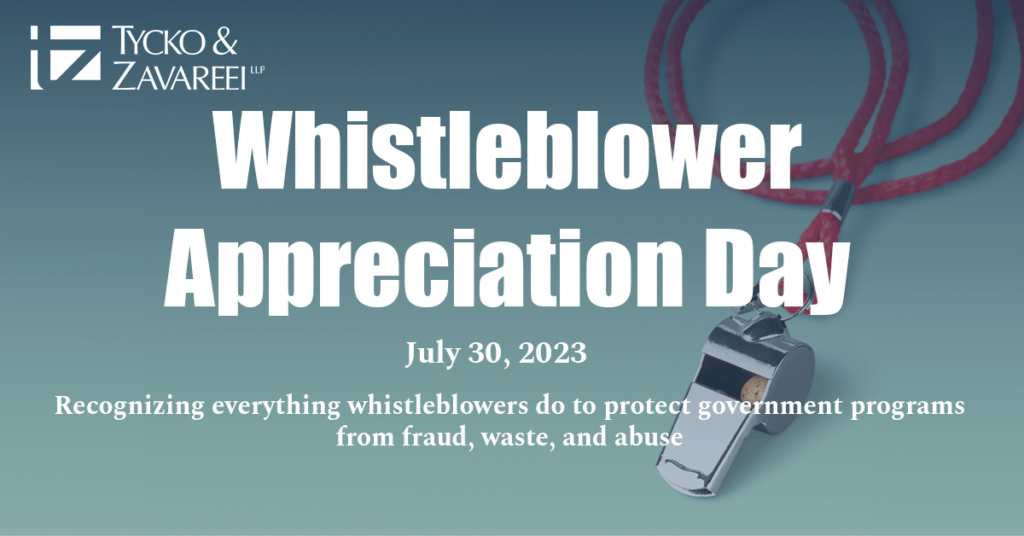 This year marks the 10th anniversary of National Whistleblower Appreciation Day (July 30th), and the whistleblower attorneys at TZ are honored to join with others in celebrating this important day. This event was first launched ten years ago by Senator Charles Grassley (R-IA) through a resolution in the Senate to recognize individuals who stepped up to report corporate misconduct involving taxpayer dollars. Taxpayers owe a debt of gratitude to these courageous whistleblowers for bringing necessary transparency, accountability, and justice to government. In honoring these brave individuals for National Whistleblower Appreciation Day 2023, let us continue to show appreciation to existing whistleblowers and encourage future whistleblowers, when they see something, to say something.
Legislative Developments
The False Claims Amendments Act of 2023
With National Whistleblower Day just around the corner, a group of bipartisan senators have introduced a bill aimed at enhancing the government's ability to combat fraud. The False Claims Amendments Act of 2023 aims to ensure that entities "cannot escape liability in cases where the government has made recurring payments on fraudulent claims." The bill is cosponsored by Senators Grassley, Dick Durbin (D-IL.), John Kennedy (R-LA), and Roger Wicker (R-MS).
This legislation specifically clarifies two parts of the False Claims Act: the materiality standard and anti-retaliation protection.
The False Claims Act provides the government with a potent tool to fight fraud. With the help of whistleblowers, the government can pursue entities that defraud the government and recover taxpayer dollars lost to fraud. However, dictum by the U.S. Supreme Court in Universal Health Services v. United States ex rel. Escobar has created an opportunity for entities to claim the government's continued payment on their false claim means their fraud was not material. This allows entities to escape liability for their actions.
The False Claims Amendments Act of 2023 seeks to rectify this issue by clarifying that the government's continued payment on a fraudulent claim is not dispositive evidence (i.e., does not settle a legal question) that the fraud was not material. Specifically, the bill states that if the government can show other reasons for the payment, then continued payment does not negate the fraud. This is an important addition to the False Claims Act and will enable the government to pursue entities that use this loophole to avoid liability.
In addition to clarifying the materiality standard, the False Claims Amendments Act of 2023 also addresses retaliation against whistleblowers. The bill clarifies that the False Claims Act's whistleblower anti-retaliation provision applies to post-employment retaliation. This means that if an entity retaliates against a former employee who spoke out about fraud, that employee is still protected by the Act.
CFTC Whistleblower Program
Last month, Senator Grassley led a bicameral and bipartisan initiative introducing legislation to bolster the CFTC Whistleblower Program. The Commodities Futures Trading Commission Whistleblower Fund Improvement Act shores up the CFTC's whistleblower program and ensures that it remains solvent. The legislation seeks to increase the whistleblower reward fund from $100 million to $300 million. In doing so, whistleblowers who report multi-billion-dollar fraud schemes can still be rewarded without bankrupting the CFTC program.
Cyber-Fraud: The New Kid on the Block
Since the Department of Justice (DOJ) announced its Civil Cyber-Fraud Initiative in October 2021, there have been three cyber-fraud False Claims Act settlements with the following defendants: Aerojet Rocketdyne Inc., Comprehensive Health Services (CHS), and Jelly Bean Communications Design. Whistleblowers were key in two out of three of these cases, with the Aerojet whistleblower receiving a $2.61 million reward and the CHS whistleblowers receiving over $170,000 plus attorneys' fees and costs. Cybersecurity-related violations of the False Claims Act include:
Knowingly failing to meet cybersecurity standards that are required by government contracts
Knowingly misrepresenting internal cybersecurity controls or practices
Knowingly failing to report cyber incidents in a timely manner
In an increasingly digitally connected and technologically reliant world, ensuring data privacy and security is more important than ever to consumers, and the government takes its contractors' compliance with cybersecurity protocols and controls seriously.
This National Whistleblower Day, let us reflect on the whistleblowers who have helped the DOJ recover $2.2 billion in settlements and judgments in FY 2022. New legislation, and continued pursuit of cybersecurity violations, will help protect and reward whistleblowers as the good actors who continue to call out the bad actors misspending government funds.
If you would like to report healthcare, cyber, or government contracts fraud, you can contact attorneys at Tycko & Zavareei LLP. Eva Gunasekera and Renée Brooker are former officials of the United States Department of Justice and prosecuted whistleblower cases under the False Claims Act. Renée served as Assistant Director at the United States Department of Justice, the office that supervises False Claims Act cases in all 94 United States District Courts. Eva was the Senior Counsel for Health Care Fraud. Eva and Renée now represent whistleblowers. For a free consultation, you can contact Renée at [email protected] (tel.: 202-417-3664) or contact Eva Gunasekera at [email protected]. You can also go to Tycko & Zavareei LLP's website for whistleblowers to learn more at www.fraudfighters.net.