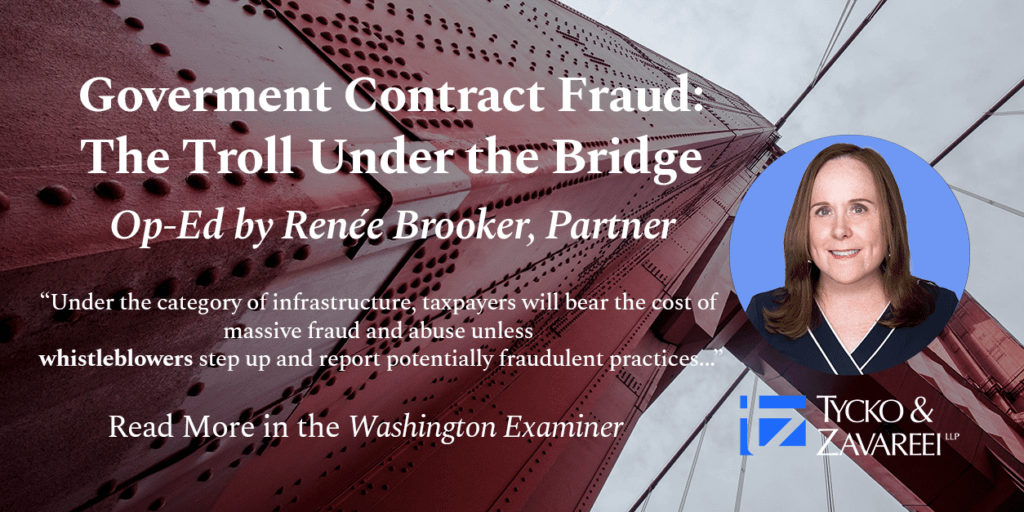 Op-Ed in the Washington Examiner
As that "Building a Better America" cash flows into the hands of private contractors, the dark specter of fraud and abuse will undoubtedly appear.
Read Partner Renée Brooker's latest opinion piece in the Washington Examiner, calling all government contractor whistleblowers, as contractors bid on projects funded by the November 2021 infrastructure bill.  With more government spending comes more opportunities for fraudsters to divert that spending into their own pockets. Ms. Brooker notes, "Under the category of infrastructure, taxpayers will bear the cost of massive fraud and abuse unless whistleblowers step up and report potentially fraudulent practices," such as overstating a contractor's qualifications in a bid, misrepresenting costs, improperly allocating costs, and providing subpar work or services.  The False Claims Act is the government's primary tool to combat fraud, and motivated individuals who blow the whistle on government contracts fraud may share in 15-30% of the government's recovery in a fraud case.